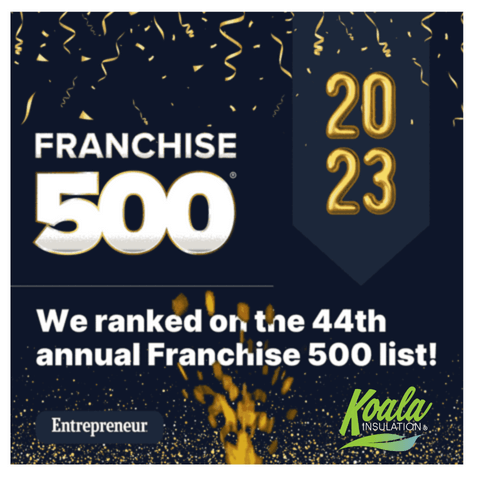 Koala Insulation Ranked among the Top Franchises in Entrepreneur's Highly Competitive Franchise 500®
Melbourne, Florida, JANUARY 10, 2023– Koala Insulation was recognized as one of the top 500 franchises in Entrepreneur's Franchise 500®, the world's first, best, and most comprehensive franchise ranking. The 44th annual Entrepreneur Franchise 500® is a highly sought-after honor in the franchise industry. Recognized as an invaluable resource for potential franchisees, the 2023 Franchise 500® ranks Koala Insulation as #235 for its outstanding performance in areas including unit growth, financial strength and stability, and brand power.
"The past year underscores the extraordinary opportunities that the franchise industry presents for entrepreneurs of all levels," says Entrepreneur editor in chief Jason Feifer. "The companies named to our 44th annual Franchise 500 list represent some of the most innovative, creative, and trusted brands across many industries and highlight what it takes to build the kind of momentum that drives long-lasting success."
In Entrepreneur's continuing effort to best understand and evaluate the ever-changing franchise marketplace, the company's 44-year-old ranking formula continues to evolve as well. The editorial team researches and assesses several factors that go into the evaluation including costs and fees, size and growth, support, brand strength, and financial strength and stability. Each franchise is given a cumulative score based on an analysis of more than 150 data points, and the 500 franchises with the highest cumulative scores become the Franchise 500® in ranking order.
"Koala Insulation has experienced remarkable growth over the past year," says Megan Taylor, VP of Operations at Koala, "This is due to a few key factors; an experienced and passionate support team, a recession-resistant concept, and a tried-and-true business process. I look forward to seeing Koala continue to experience extraordinary expansion in 2023."
Over its 44 years in existence, the Franchise 500® has become both a dominant competitive measure for franchisors and a primary research tool for potential franchisees. Koala Insulation's position on the ranking is a testament to its strength as a franchise opportunity.
To view Koala Insulation in the full ranking, visit www.entrepreneur.com/franchise500. Results can also be seen in the January/February 2023 issue of Entrepreneur, available on newsstands January 17th.
About Koala Insulation
Koala Insulation is an insulation installation franchise that seeks to provide homeowners across the U.S. with money and energy-saving insulation services while providing local business owners and entrepreneurs with the opportunity to own and operate a successful and lucrative franchise. They offer franchisees the opportunity to work with custom Koala HQ built equipment and start their franchise location with low startup costs. And thanks to the support offered by Koala's infrastructure, franchise partners do not need any previous experience in the insulation industry. Koala Insulation is rapidly expanding across the United States and are on a mission to reduce overall energy waste and greenhouse gas emissions from homes and businesses.
###