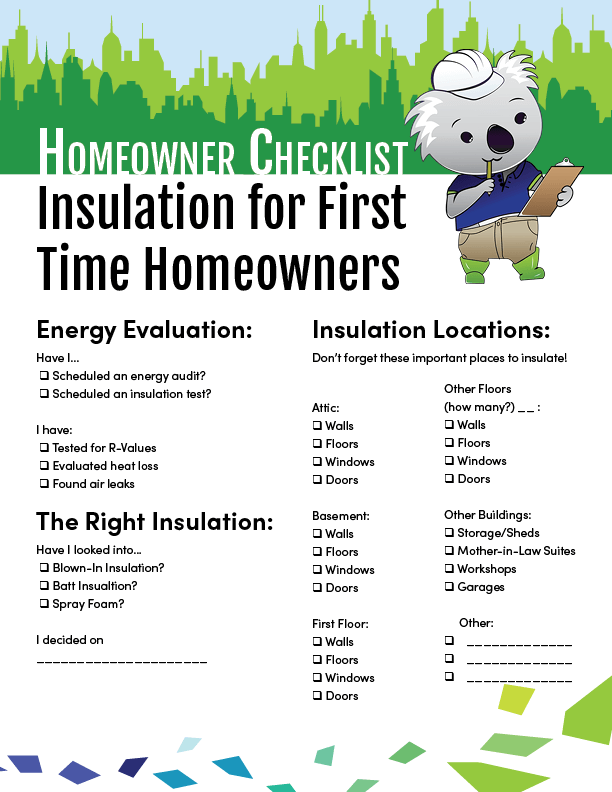 Homeowner Checklist: Insulation for First Time Homeowners
As first-time homeowners, you want to be sure that your new home is not only comfortable but energy efficient. Unfortunately, insulation may not be the first item you think to check when buying a new house, as it suffers the fatal "Out of Sight, Out of Mind" syndrome.
When looking to be more energy-efficient and lower your utility bill, here's what you should remember when adding or renovating insulation. Use this information and homeowner checklist as an introduction to the key terms and processes behind insulation.
Evaluating Energy Efficiency
On average, heating and air conditioning is responsible for more than half of the energy use in your home, according to the US Energy Information Administration, and 20% of your utility bill. This means that even if your new home isn't your first, you should still ensure your home's insulation is up to par. You can verify your house's energy efficiency two ways: through a full energy audit or by testing your insulation.
While we've previously covered energy audits and their importance in evaluating energy use, testing insulation through thermographic imaging can pinpoint uncontrolled airflow and drastic temperature variations. Using infrared video and cameras, thermographic imaging "sees" heat in a building. This not only detects leaks in a building but provides a quantitative measure of just how bad the air leakage is. These images, or thermograms, show where the heat is being lost and where the air leaks are located.
The Right Insulation
Two areas homeowners should pay attention to when looking for the right insulation is the type of insulation and its r-value.
Type of Insulation
There are three main types of insulation. Each has an area they work best in, as well as different strengths when applied.
Blown-In Insulation
Batt Insulation
Spray Foam

Cracks and leakage areas
Walls
Attics
For detailed explanations and comparisons between each, Koala Learning Center has more information in this article.
R-value
When measuring the ability of a material to resist temperature changes, we analyze the material's "R-value." The term refers to "Thermal Resistance." Your insulation materials are assigned an R-value after they're tested, which provides information on how well they limit energy (heat) moving through them. Measured by thermal resistance per inch, the material with a higher R-value is considered "stronger."
Where You Should be Insulating
After understanding this information, the last step is to know where your new home should have insulation. Use this chart to better understand each area that should be evaluated.
Click here for printable image
1. Attic Space
✅ The walls, floors and doors should be insulated thoroughly enough to seal off from the living spaces below.
2. Walls
✅ Insulating the walls of each floor can help reduce sound transmission, protect against moisture, and reduce air leaks and heat flow.
3. Floors
✅ Especially between stories, insulated floors improve heating and cooling control and moisture prevention.
4. Basements
✅ Basements and floors beneath the earth benefit from insulation by keeping air loss to a minimum. Most heat loss in basements comes from under-insulating.
5. Windows & Doors
✅ Drafts can be prevented, in turn preventing unnecessary energy waste, by sealing cracks and small gaps. Caulking and installing new sweeps are two examples of properly insulating windows and doors.
First Time Homeowner: You're an Insulation Expert!
Now that you're aware of the potential harm overlooking insulation can have on your home, you're ready to become energy efficient homeowners! Koala Insulation not only provides insulation testing, but other services, such as estimates and consultations for any other insulation questions you may have. Print out our First Time Homeowner Insulation Checklist to double-check all areas of your home are properly insulated.