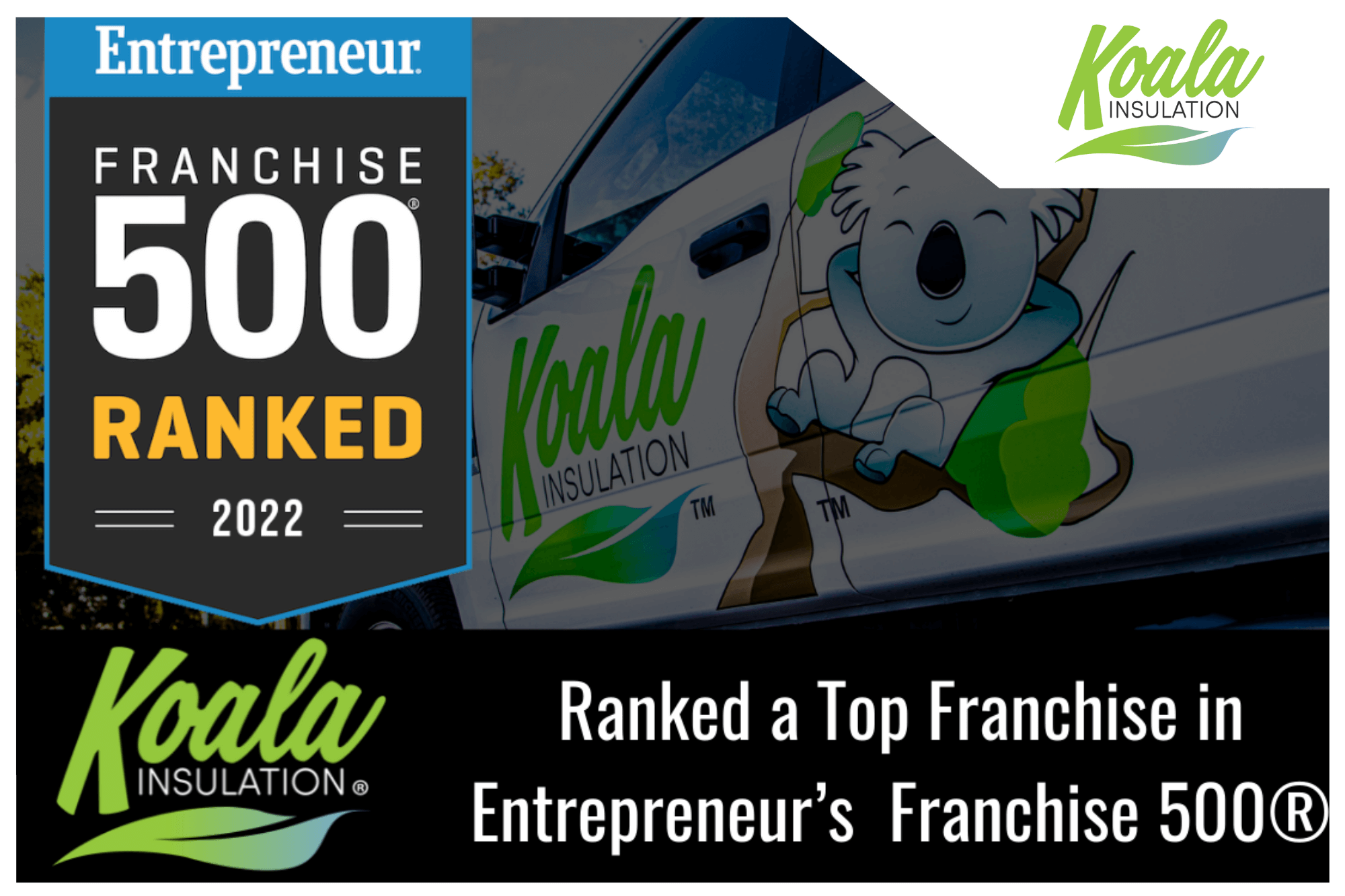 Koala Insulation Ranked a Top Franchise in Entrepreneur's Highly Competitive 42nd Annual Franchise 500®
MELBOURNE, FL., January 11, 2022 - Koala Insulation, an insulation installation franchise, announced they were ranked in Entrepreneur magazine's Franchise 500®. Koala Insulation ranks 242 on the Franchise 500 for financial strength and stability, growth rate and size of the system. "Our ranking by Entrepreneur Magazine is a true reflection of what our brand offers. Our dedication and commitment to innovation and growth, is what makes our franchise system successful," said Scott Marr, founder of Koala Insulation.
"2021 was a record year for Koala Insulation for both our franchise partners and our company. Our success is a testament to our dedicated franchise partners, and the commitment they have to the brand. During a very challenging year we are thankful that our brand had substantial growth and profitability," said Scott. Our organization continues to redefine and improve support processes, which helps keep the franchise brand strong through these challenging times.
In fact, Koala Insulation has signed over 300 territory locations in under two years and is expected to experience continued growth this year, making the franchise a true recession-resistant business opportunity. In 2022, Koala will build upon last year's momentum and will be an ideal franchise opportunity for someone who wants to embrace the resources that Koala offers to be highly successful.
About Koala Insulation
Koala Insulation is an insulation installation franchise that seeks to provide homeowners across the U.S. with money and energy-saving insulation services while providing local business owners and entrepreneurs with the opportunity to own and operate a successful and lucrative franchise. They offer franchisees the opportunity to work with custom Koala HQ built equipment and start their franchise location with low startup costs. And thanks to the support offered by Koala's infrastructure, franchise partners do not need any previous experience in the insulation industry. Koala Insulation is rapidly expanding across the United States and are on a mission to reduce overall energy waste and greenhouse gas emissions from homes and businesses.
###
For more information on opening a Koala Insulation franchise, visit https://koalainsulation.com/franchise/contact-us/ or contact Derek Bishop at 877-87-KOALA Ext. 3 for more information.