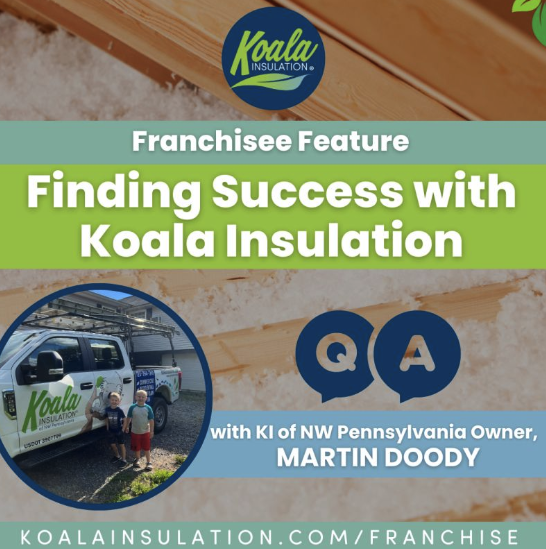 𝗤&𝗔 𝘀𝗲𝗿𝗶𝗲𝘀: "𝗙𝗶𝗻𝗱𝗶𝗻𝗴 𝗦𝘂𝗰𝗰𝗲𝘀𝘀 𝘄𝗶𝘁𝗵 𝗞𝗼𝗮𝗹𝗮 𝗜𝗻𝘀𝘂𝗹𝗮𝘁𝗶𝗼𝗻" 𝘄𝗶𝘁𝗵 𝗞𝗜 𝗼𝗳 NW Pennsylvania Owner, Martin Doody
Discover the success stories of our top franchise owners! In this installment of our new 𝗤&𝗔 series, "𝗙𝗶𝗻𝗱𝗶𝗻𝗴 𝗦𝘂𝗰𝗰𝗲𝘀𝘀 𝘄𝗶𝘁𝗵 𝗞𝗼𝗮𝗹𝗮 𝗜𝗻𝘀𝘂𝗹𝗮𝘁𝗶𝗼𝗻", we sit down with KI of NW Pennsylvania, Owner, Martin Doody, to uncover the secrets behind his thriving franchise.
𝗛𝗼𝘄 𝗱𝗼 𝘆𝗼𝘂 𝗺𝗲𝗮𝘀𝘂𝗿𝗲 𝘀𝘂𝗰𝗰𝗲𝘀𝘀?
I believe the definition of success is different for every individual. In my opinion, success is when you achieve a goal. I believe goals are based on an individual's values and mission. I recommend taking the time to consider your values and mission, then come up with BIG goals, and finally developed a step-by-step plan to achieve those goals. Work the plan daily, change it as necessary, stay focused on the goal, and you will accomplish BIG things and achieve success.
𝗛𝗼𝘄 𝗵𝗮𝘀 𝗞𝗼𝗮𝗹𝗮 𝗜𝗻𝘀𝘂𝗹𝗮𝘁𝗶𝗼𝗻 𝗮𝗶𝗱𝗲𝗱 𝗶𝗻 𝘀𝘂𝗰𝗰𝗲𝘀𝘀?
My goal was to build a profitable, customer-oriented, family owned and operated business in one year. The support from the team at Koala Insulation has played an instrumental role in helping us to learn the insulation business, connect us with industry partners to speed in the growth of the business, set up national accounts, marketing guidance, and technical support. We could not have achieved our goal in one year without the support from everyone at Koala HQ.
𝗪𝗵𝗮𝘁 𝘄𝗼𝘂𝗹𝗱 𝘆𝗼𝘂 𝘁𝗲𝗹𝗹 𝗳𝘂𝘁𝘂𝗿𝗲 𝗙𝗿𝗮𝗻𝗰𝗵𝗶𝘀𝗲 𝗣𝗮𝗿𝘁𝗻𝗲𝗿𝘀 𝘄𝗵𝗼 𝘄𝗮𝗻𝘁𝗲𝗱 𝘁𝗼 𝗴𝗲𝘁 𝘀𝘁𝗮𝗿𝘁𝗲𝗱?
Choosing a franchise is exciting and can be overwhelming at times. I had no idea the amount of different franchise opportunity that exist. During the initial consideration of whether to purchase a franchise or not, I looked at up to five different franchise opportunities. To aide in making the final decision I came up with three questions to differentiate the various opportunities.
1. Which franchise would I feel comfortable and proud to tell friends and family I now owned? 2. Would I enjoy the work and industry?
3. Which franchise would we realize the quickest ROI?
4. Which franchise would generate the best long-term ROI?
After considering these four questions it became clear the answer was Koala Insulation! If I had to do it all over again, I would choose Koala Insulation without any doubt.
How many rigs did you start with and how many do you have now?
We started with one blown-in rig, and one spray foam rig. Within four months we added a second blown-in rig. We now have the capability of having three crews on the road daily.
𝗪𝗵𝗮𝘁'𝘀 𝘁𝗵𝗲 𝗮𝘃𝗲𝗿𝗮𝗴𝗲 𝘁𝗶𝗰𝗸𝗲𝘁 𝗽𝗿𝗶𝗰𝗲?
Our business can be divided into a number of different categories:
​Existing home insulation/ventilation upgrades.
​New home construction.
​New commercial construction.
​Industrial.
As you start the business, I recommend focusing on existing home upgrades. The average ticket for this type of work is approximately $2,500. You will need to get a better understanding of the business and industry before entering the other market segments. This projects will generate higher per project revenue, but can be very costly if you and/or your team are not completely proficient in all aspects of the insulation requirements.
𝗜𝘀 𝘁𝗵𝗲𝗿𝗲 𝗮𝗻𝘆𝘁𝗵𝗶𝗻𝗴 𝗲𝗹𝘀𝗲 𝘆𝗼𝘂'𝗱 𝗹𝗶𝗸𝗲 𝘁𝗵𝗲 𝘄𝗼𝗿𝗹𝗱 𝘁𝗼 𝗸𝗻𝗼𝘄 𝗮𝗯𝗼𝘂𝘁 𝗯𝘂𝘀𝗶𝗻𝗲𝘀𝘀 𝗼𝘄𝗻𝗲𝗿𝘀𝗵𝗶𝗽, 𝗯𝗲𝗶𝗻𝗴 𝗮𝘄𝗲𝘀𝗼𝗺𝗲 ( 😉 ) 𝗼𝗿 𝘁𝗵𝗲 𝗞𝗼𝗮𝗹𝗮 𝗙𝗿𝗮𝗻𝗰𝗵𝗶𝘀𝗲 𝗙𝗮𝗺𝗶𝗹𝘆?
As a small business owner you will experience a wide range of emotions – excitement, pride, stress, frustration, apprehension, etc. It's important to remember that by having a goal, developing a plan, working the plan and staying focused - you will be successful. While developing your plan, utilize all of the resources available from Koala Insulation HQ, and the network of other Koala franchise partners to avoid as many mistakes as possible, and accelerate your growth.