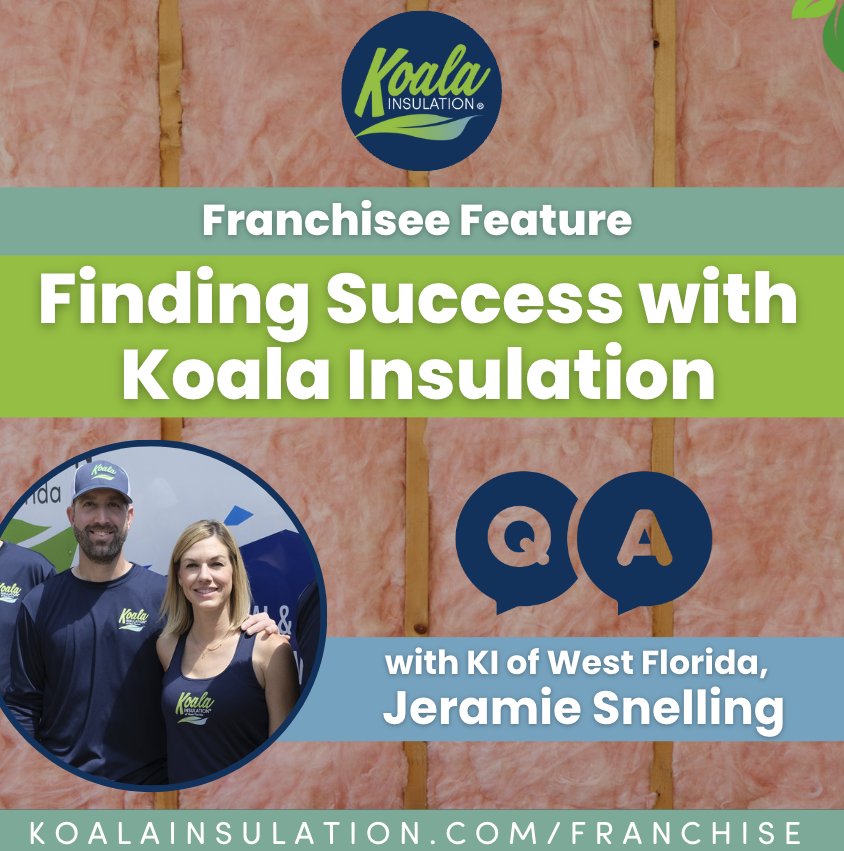 𝗤&𝗔 𝘀𝗲𝗿𝗶𝗲𝘀: "𝗙𝗶𝗻𝗱𝗶𝗻𝗴 𝗦𝘂𝗰𝗰𝗲𝘀𝘀 𝘄𝗶𝘁𝗵 𝗞𝗼𝗮𝗹𝗮 𝗜𝗻𝘀𝘂𝗹𝗮𝘁𝗶𝗼𝗻" 𝘄𝗶𝘁𝗵 𝗞𝗜 𝗼𝗳 West Florida Owner, Jeramie Snelling
Uncover the secrets behind the success of our top franchise owners in our new 𝗤&𝗔 series, "𝗙𝗶𝗻𝗱𝗶𝗻𝗴 𝗦𝘂𝗰𝗰𝗲𝘀𝘀 𝘄𝗶𝘁𝗵 𝗞𝗼𝗮𝗹𝗮 𝗜𝗻𝘀𝘂𝗹𝗮𝘁𝗶𝗼𝗻". In this exciting installment, we sit down with Jeramie Snelling, owner of KI of West Florida, and discover his secrets to running a thriving franchise.
How do you measure success?
Success, to me, is about finding fulfillment in both personal and business achievements. It's not just about financial prosperity but also about the satisfaction of employees and the overall health of the business. I define success by factors like process improvement, employee satisfaction, and opportunities for growth.
Success is not just a long-term goal but a daily pursuit, with small victories adding up to larger accomplishments. It's also deeply contextual, and overcoming challenges can be a true measure of success.
I believe that great people, streamlined processes, and accountability are crucial for achieving success. Accountability isn't a burden but a path to excellence and growth.
Ultimately, success is about the growth of the company and the advancement of its employees, aligning intentions with actions and finding fulfillment along the way.
How has Koala Insulation aided in your success?
As a Koala Insulation franchisee, I've experienced significant support and contributions to my success. Koala's proactive approach, engaged leadership, and comprehensive training were evident from the start.
They not only responded promptly to requests but also took the initiative to support franchisees. Setting up my business was seamless, and their focus on removing administrative burdens allowed me to concentrate on growing the business.
Koala's partnerships with marketing firms and national suppliers created a sense of unity and shared vision for growth. Their unique incentive structure, which lowers royalty percentages as revenue grows, was a game-changer for our growth.
What truly sets Koala apart is their emphasis on fostering a community among franchisees. The introduction of a peer group allowed for meaningful interactions and shared insights, creating a supportive environment.
Koala's commitment to addressing challenges in real time demonstrated their dedication to franchisees' success. My experience with Koala Insulation has been overwhelmingly positive, and I wholeheartedly recommend them as a franchisor that invests in your success.
What would you tell future Franchise Partners who want to get started?
For those considering becoming a Koala Insulation franchise partner, I offer some valuable insights based on my experience. Initially, fully immerse yourself in the business to grasp its intricacies before transitioning to semi-absentee ownership if desired.
Investing in assets like rigs and trucks is important, as it provides long-term benefits and ownership of valuable resources.
Even without prior experience in the insulation industry, Koala's comprehensive training equips you with the necessary skills and knowledge. They provide the support required for your success.
Koala's focus on exceptional service and customer relationship management, along with their commitment to franchisee success, creates a solid foundation for a rewarding franchise experience.
How many territories did you start with and how many do you have now?
I began with five territories, and within the first year, I expanded to a total of ten territories. This growth trajectory demonstrates the substantial potential for growth within the Koala Insulation franchise network.
How many rigs did you start with and how many do you have now?
Initially, we started with two rigs and two F-250 vehicles. Within the first year, we expanded our fleet to a total of six rigs and six F-250 vehicles, demonstrating our commitment to meeting customer demands and enhancing our service capabilities.
What's your average ticket price?
Our average ticket price is $3,200.
Is there anything else you'd like the world to know about business ownership, being awesome (😉), or the Koala Franchise Family?
Business ownership is a journey that involves significant effort and dedication, but it also offers substantial rewards. Being part of the Koala Franchise Family has provided me with the support, resources, and opportunities to thrive in the insulation industry.
The Koala Franchise Family is more than just a business partnership; it's a supportive community of like-minded individuals. Collaborative ventures and shared growth are common themes, and the franchise fosters a culture of learning and mutual support.
From a financial perspective, franchise ownership offers the potential for unlimited earnings, tied directly to your diligence and commitment.
In summary, the Koala Insulation franchise experience represents the convergence of personal belief and a nurturing community. It's an entrepreneurship journey filled with growth potential, community engagement, and the promise of financial success.