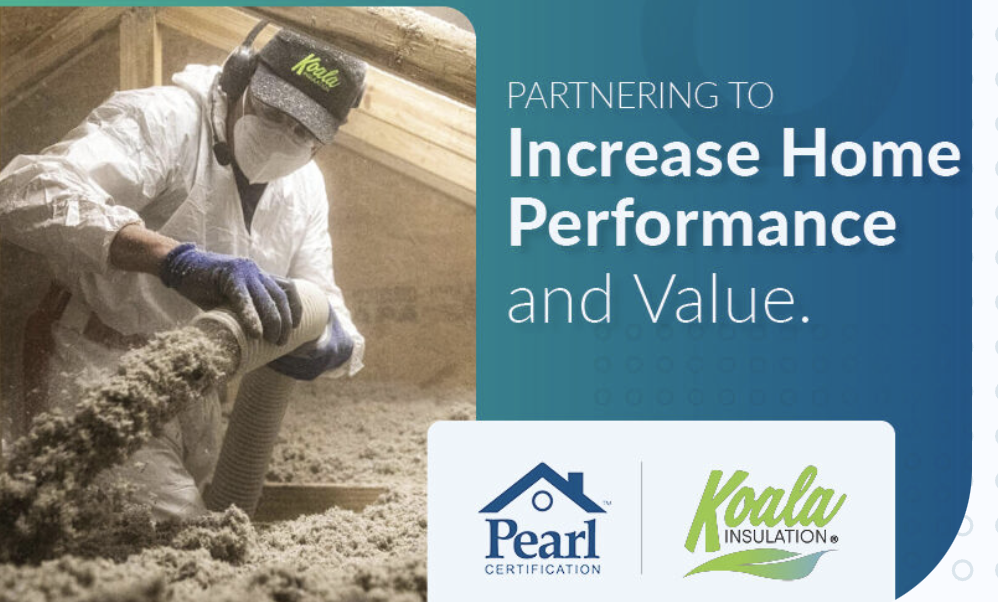 Koala Insulation Partners with Pearl Certification for a More Energy-Efficient U.S. Housing Market
FOR IMMEDIATE RELEASE
Koala Insulation Partners with Pearl Certification for a More Energy-Efficient U.S. Housing Market
MELBOURNE, Fl., July 13, 2023 - Koala Insulation, a leading franchise in the insulation industry, is thrilled to announce a groundbreaking partnership with Pearl Certification, the industry's premier third-party certification program for high-performing homes.
This strategic collaboration enables home services contractors to install Koala's top-of-the-line insulation while simultaneously validating the enhanced value they bring to homeowners through a third-party certification from Pearl.
"Air sealing and proper insulation are crucial for achieving high-performing homes," emphasized Cynthia Adams, CEO and co-founder of Pearl Certification. "Regardless of the efficiency of your HVAC system, inadequate insulation and poor air sealing can lead to significant energy waste. That's why partnering with Koala Insulation, a company that prioritizes these fundamental steps towards energy efficiency, is essential for Pearl's mission."
Both Koala Insulation and Pearl Certification share a commitment to excellence, exceptional customer service, and professional development. Through meticulous contractor vetting processes, they ensure that only the best professionals join their networks.
Megan Taylor, Vice President of Operations for Koala Insulation, expressed enthusiasm about the partnership: "We are thrilled to collaborate with Pearl and enhance the sales potential of Koala's services by adding value to energy-efficient upgrades. Pearl Certification serves as an invaluable resource, complementing our efforts towards a more sustainable future."
High-performing homes go beyond energy efficiency; they prioritize safety, intelligence, and comfort, which are unattainable without effective air sealing and insulation. By joining forces, Pearl Certification and Koala Insulation aim to transform homeowners' perception of their homes and revolutionize the U.S. housing market.
###
About Pearl Certification:
Pearl Certification is a nationally recognized firm that qualifies an elite network of professionals and certifies high-performing homes. With a focus on various features such as heating and cooling systems, solar power, smart home devices, and resilient construction, Pearl's Certification Reports enhance the visibility and demand for these desirable attributes during home sales. The certification allows sellers to maximize the value of their investments while enabling buyers to find their ideal homes.
About Koala Insulation:
Koala Insulation is a rapidly expanding insulation installation franchise dedicated to delivering energy-saving solutions to homeowners across the United States. By providing franchisees with custom-built Koala HQ equipment and comprehensive support, the company offers aspiring business owners an opportunity to thrive in the insulation industry without prior experience. Koala Insulation's mission is to reduce energy waste and greenhouse gas emissions from residential and commercial properties, contributing to a more sustainable future.