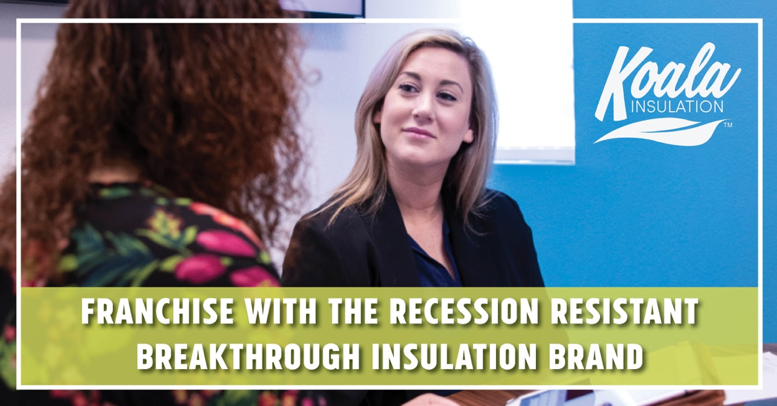 Are you ready to tap into an untapped market?
Have you been eager to dive into business ownership with an emerging concept in a growing industry? If so, the Koala Insulation franchise opportunity could be a great fit for you. Koala Insulation is a recession-resistant mobile business concept in the fast-growing, $52-billion insulation industry, and we are seeking experienced professionals to grow our brand through franchising.
With franchisees currently operating in Atlanta, Daytona Beach, Fla. and Panama City, Fla., we recently announced our strategic growth initiative to add 200 franchise licenses in the next 12 months.
As a mobile concept with no leases required, entrepreneurs are offered a low-barrier opportunity to break into business ownership in the recession-resistant insulation industry. We're equipped with a thorough franchise support structure, complete with training, operations, marketing, lead generation and technology systems for our franchisees. Requiring low-overhead while offering quick ramp-up time, and with 45 million existing U.S. homes being under insulated, that's a lot of business to be tapped in to.
We have had a transformative few months, having recently completed construction on our state-of-the-art 14,000 sq. ft headquarters and training facility in Melbourne, Fla. Our headquarters includes a 2,500 sq. ft model home, which provides franchisees and their crews the opportunity to get hands-on practice installing insulation.
Our business model has been built to attract individuals or teams with experience in sales, marketing and managing high-performing teams. If that sounds like you, now is the opportune time to do your due diligence and hit the ground running with Koala Insulation.
Reach out to us or visit our franchise website to learn more about how you can begin your path to becoming a Koala Insulation franchisee today.
Be Your Own Boss.
Secure Your Future.
Make A Difference.
Becoming a Koala Insulation franchise owner offers life-changing benefits. A low initial investment and extensive training makes it easy to start your own franchise and find success. Get started today!
Why a Koala Insulation Franchise Simply Makes Sense
Ready to take the leap into franchising?
Be in control of your financial future and have ample opportunity to increase your net worth.
Joining an already successful brand means a lower failure rate.
Own an asset that pays dividends and can be sold for more in the future.
Get a proven business model and strategies instead of learning on your own.
Have complete control over your career, hours, and investment.
Be the first to tap into untapped territories you can later expand on.
Your reputation and brand name recognition are already established.
Senior leadership in the Koala franchise system has over 40 years of franchising experience.